Marketing jobs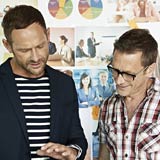 From executive and management FMCG jobs to marketing and digital jobs in the public sector, and from professional services to creative and agency jobs, Hays Marketing & Digital's consultants have access to a range of brand executive and brand manager jobs, digital marketing executive and manager jobs, PR executive and PR manager jobs, and many more.
No time to search? We get it. Just send us your CV and we'll review your career opportunities.
View all jobs
Links candidates specialism pages
Career advice right hand block
Career advice

Our resources cover everything from the initial search right up to salary negotiation.