Romania Salary Guide 2020

First Edition in Romania

It is a great pleasure to present you the first edition of Hays Romania Salary Guide 2020! This is an annual publication that analyzes the current situation and future trends of the Romanian labour market, including the salaries ranges of more than 200 positions for 9 industries analysed.
No one could have forecasted 2020 and the devasting impacts that Covid-19 would have across the country and world. As we transition to the new era of work, businesses are navigating the everchanging landscape. With socially distanced workplaces and hybrid working models becoming more common – agility and adapting to change are key pillars to success.
Get insight into the latest hiring trends, salary ranges and hot jobs. You'll also receive key considerations to help strengthen your recruitment and retention strategy when you download your copy of the guide today.
Note: The Hays Romania Salary Guide is dedicated to your own use and can not be fully shared on online channels.
Key findings

Here are a few of the top highlights from this year's results.

With this guide, you'll find up-to-date salaries plus:

✓ Current state of the market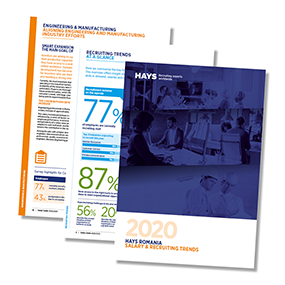 ✓ Salary and benefit trends by industry
✓ Remote working practices – challenges, productivity, and more
✓ Employee satisfaction and wellbeing advice
Links candidates specialism pages